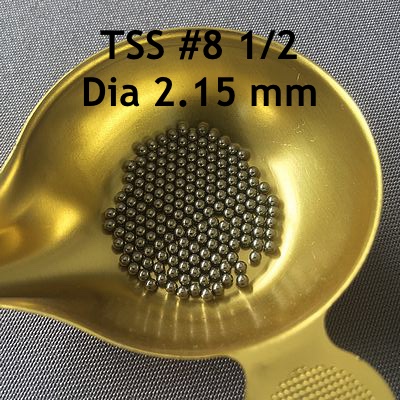 TSS pellet #8 1/2- diameter 2.15 mm
Tungsten Pellet diameter 2.15 mm (#8 1/2). Density 18 g/cc. Price for 100 grams.
Take advantage of a discounted price strong> depending on quantity:
From 15 : 0,66€ discount on the price indicated.
From 30 : 1,00€ discount on the price indicated.
In stock: 22
Availability: In stock, next-day shipping
13,00€ inc. tax
Add this item to your shopping cart to earn 5 points fidélité.
Condition : new
TSS (Tungsten Super Shot) # 81/2 - Diameter 2.15 mm
Unit of sale: 100 grams
The TSS #81/2, diameter 2.15 mm is a very interesting ball. It is the lead equivalent of a ball of 4 at the level of the penetration which makes it a ball well adapted to shots distance because of its important lethality.
Technical characteristics
NON-TOXIC and can therefore be used legally in wet areas
Tungsten alloy, iron and nickel with a density of 18 g / cm3
One pellet weight: 94 mg
Number of balls per 10 grams: 107 balls
Penetration at 50 m (V0 = 400 m / s): 47.1 mm
Use
TSS # 81/2 (2.15 mm) balls can be used to shoot medium and large ducks up to a distance of at least 60 m. Indeed, the 37 mm (necessary for the mallard) entrance is reached up to 70 m and the 60 m average pattern density remains of almost 4 impacts per dm² for a conventional 40 gram load.
I invite you to go on the blog to consult the table of the loads according to the desired game.
You need to be connected to post a comment